The Safety Risk Matrix(SRM) of ISCaDE™ Pro have many new and enhanced features as compared to its previous releases.

The risk classes within the Hazard Log can be configured based on specific project needs. The Safety Risk Classification Matrix would be automatically generated for a user defined configuration.

The standard features and functionalities as offered in previous versions are available, that include,
risk matrix (before mitigation of the risk)
risk matrix (after mitigation of the risk)
displaying any one or both of above stated risk matrices
displaying number of objects lying in a specific risk class category as well as the risk class name.
filtering the module objects according to the risk class selected
In addition to these, few additional RIsk Class based filters are added. They can be seen below each matrix. By clicking these user can filter the accidetns with the same Risk Class.

The most important among the new features added is the dynamic behaviour of SRM. The SRM can be modified and configured for any particular standard or industry. The labels of Risk Classes, Probabilities and Severities as well as their colours can be easily configured and customised using the XML Configuration Data Repository of ISCaDE™ Pro. That's why it covers a vast range of safety related industries.

As discussed earlier, different ISCaDE™ Pro projects can have different configurations and hence different risk matrices can be produced. Examples for defence and rail are shown below. Click the Safety Risk Matrix below for a larger view.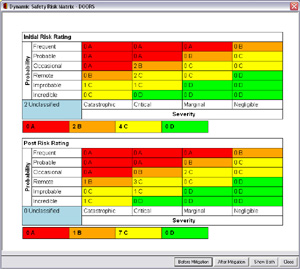 Safety Risk Matrix Defence

Safety Risk Matrix Rail

Another enhanced feature is filtering. In previous version, since there was only one Hazard Module, so only one module was affected by filtering process. But in current version Hazard Module is split into multiple modules, having some link or relation with one another. Now filtering does not affect only a single module, rather it affects all the split modules. This makes the information more precise, more readable and thus helps the user to make a quick decision.

Clicking a particular cell of Safety Risk Classification Matrix not only filters the Accidents lying under that particular criterion but also filters the Hazards and Controls associated with the Filtered Accidents. That is, only those Hazards and Controls are displayed that are linked with the current filtered set of Accidents.